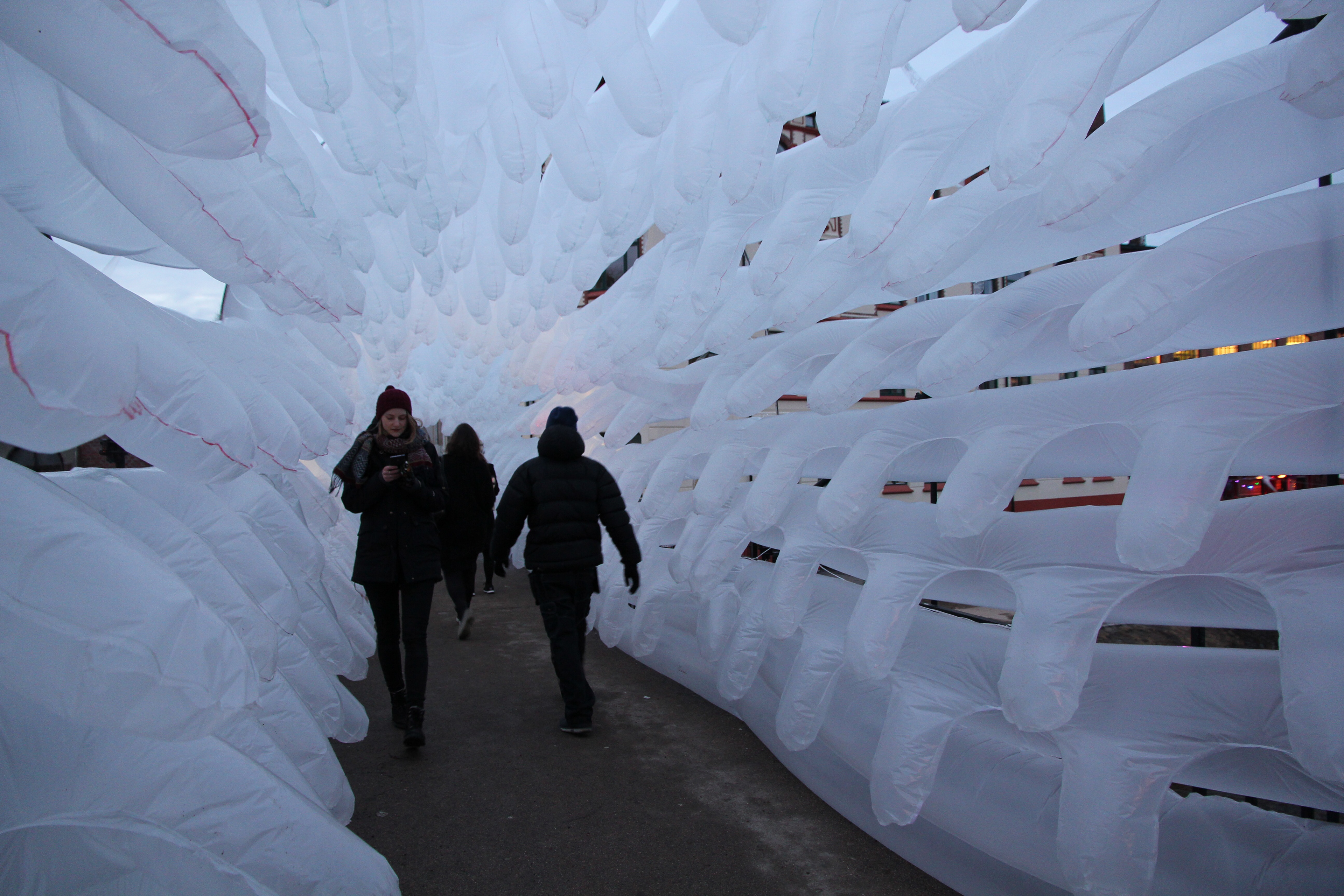 Tarmtott

By:Larm makes the city vibrant, with around 200 concerts over three days. The artists play short and energetic concerts, before they and the audience move on to other venues. With our project, we hoped to capture the briefness and energy of by:Larm concerts, and the movement of the festival people. In the bowels of Oslo, we put our intestine installation to life.
Concept 
Tarmtott: an inflatable and interactive light tunnel that lead people to different venues during the by:Larm festival. The 17 meters long tunnel whose shape is inspired by the inside of intestines, shows intestinal villus in an abstract and magnified way. The structure consists of 22 «tubes» made out of transparent plastic and soldered together to a desired shape that is continuously filled with air. One of the main goals with the installation was to create a tactile and voluminous space for the people passing by, and make them want to pass by again. 

Surroundings and placement:
The tunnel was placed in the Oslo city centre over the white bridge at Nedre gate between DOGA and Blå. This location established a desired link between the different venues during the festival. We also thought that the spacial qualities of the bridge enabled an intimate and closed atmosphere, as well as a way to braid our inflatable into the city structure. Together with our installation, we wanted the space to transcend into a sensory impression of being inside an organic creature. 
Construction and volume:
When creating our concept, which we wanted to be a voluminous and big installation, we thought of using many types of materials, like foam, soap bubbles, nets and pool noodles. We decided on inflatables because plastic sheets were way cheaper and more available than other options, and easy to work with. In other words we wanted to utilize the properties of this technique to create an interesting structure and space. After deciding the shape we had to build a safe and solid structure that could support the soft parts of plastic without destroying the material. How was it going to stay in place and where was it necessary to connect the different pieces? 

After a lot of discussions we decided to make five steel arches to support the whole structure. Each tube was connected to these arches by the use of strips and gaffer tape. To maintain a steady pressure of air through every tube we had to construct a main air passage directly from the fan. By continuously filling this passage we managed to get the desired volume and the structure held itself up.

Light and sensors:
An interactive element of Tarmtott are the light arches that pulsate each time somebody starts walking into the tunnel. By using lights the installation became visible during nighttime giving it a different expression than by daytime. Led lights added to the experience with pulsating rapid flashes that lit up different sections along the axis. Because of the transparent material the lights were visible both from the inside and outside of the tunnel which drew the attention from afar. These got triggered by a motion sensor, sensing when people entered the tunnel, indicating activity. Unfortunately the sensor didn't respond that well during nighttime and got triggered by the dark.

Goals//Motivation
Social Media, distinctiveness & attention:
Our main motivation was to create a space that would draw the attention of the public, create curiosity and trigger social media use. The reason for that is that social media is such a powerful tool to spread and highlight information between people. By getting people to share pictures of Tarmtott on social media, we hoped the word would spread through larger crowds and areas. Instagram, Snapchat and Facebook was our target platforms as they are the most common and visual applications used by people.

So how could we achieve this? We figured that we could make an installation that was aesthetically distinctive and had a surprising impact on the public. It could be fun to watch and interact with, or even something that was taboo. What was clear to us, was that we wanted the installation to be a physical big-scale space, to be noticed in the public environment and attain a wow-effect. We also discussed whether or not we wanted the installation to reflect the by:Larm visual identity in shapes and colors, but decided that it was more important for us to create something surprising and unique. Tarmtott's relation to by:Larm was meant to be on a more holistic level.

The installation was also made to lead the public towards Jakob kirke, where the by:Larm festival was taking place. Visibility and placement of it was therefore an important factor. It had to be placed quite close to the concert venues for people to connect the installation with the festival. Otherwise people might think that it was an independent art installation that had nothing to do with by:Larm. The interactive lights were important considering that the festival would be happening at nighttime. They provided better visibility and attention, as well as interactivity. 
History

Air structures:
Inflatable structures are not news. Already in 1783 in France, the Montgolfier brothers were the first to inflate a paper and linen balloon, which they filled with hot air. They saw it rise into the air and move quite a distance before plummeting to the ground.
The same year in France, Jean Baptiste Meusnier designed a dual skin rigid airship. It had an inner chamber filled with hydrogen for lift and an outer chamber with pressurized air for structural rigidity. In 1917 Frederick William Lanchester from London submitted a patent for an "Improved construction of tents for field hospitals". The invention was to provide a means of construction and for erecting a tent without the use of poles or supports of any kind. The tent would use a material of low air permeability which by static air pressure would maintain it erected. 

The first years of the second world war saw new improvements in the making of balloon fabric. Now it was possible to make blimps, inflatable life saving devices, even inflatable dummy buildings and tanks were used to deceive the enemy. There were also made shelters that were supported by air inflated tubes. In 1942 Wallace Neff made concrete domes that were built by spraying inflated domes with concrete. It was however not successful because the concrete cracked due to internal pressure and temperature changes. 

Later in 1956 Birdair Structures Co was established. They made air structures for military and commercial use. For the Brussels World Fair in 1958, Pan-American airlines showcased an inflatable world sphere that people could enter. Further developments were made and in 1960 NASA in cooperation with Schjeldahl Company made the first "Satelloon"  Which is a satellite that is inflated after it has entered orbit. In 1967 the first Colloquium on Pneumatic Structures was held in Stuttgart in Germany.  

Inflatable art:
Air filled art appeared both in Europe and America between 1965-70. In 1968 the Art Council Of Philadelphia, USA, opened an exhibition under the title Air Art. The exhibition consisted mainly of kinetic art works which attempted to address the dilemmas faced by a rapidly changing society. Willoughby Sharp was the organiser and he proclaimed that the old ways of making sculptures were obsolete. 

"Kinetic works are not objects. They are inaccurately described as sculpture. Sculpture is the art of creating forms in three dimensions either by carving or modeling. These are obsolete techniques which have been exhausted. They are completely unsuitable for our contemporary technological situation. Kinetic works are neither carved nor modeled. Since they create time, they are four-dimensional".  

The exhibition had contributions from Andy Warhol, Hans Haacke and Les Levine in which a display was to "reverse the idea that art should be old and heavy". Public opinion said that art galleries were for the elite at this time. Therefore there was a concern that only the well endowed would watch. Andy Warhol made inflatable Mylar pillows and in 1966 he launched the Mylar pillows from his studio and enabled them to float freely over the streets of New York. The act of following the sculpture can be viewed as an attack on the elitist institutions. The art had escaped the confines (Structure Gonflables - Utopie Group) of the gallery space.

In later years there have been a lot of different takes on inflatable art. One of the most talked about artists have been the street artist Filthy Luker, who have made several installations in different places called "Art Attacks". In the different Art Attacks the city is attacked by something.   

Theory of the inflatables
Inflatables are tools for imagining new possibilities, and learning from old ones. Understanding the history of the inflatables as instruments of propaganda, creates space for thinking of how they can connect to contemporary political issues and cross conventional (aesthetic) boundaries. Whether as a thought provocation, a choreographic element, or a mobile barricade, these collective inventions are filled with tactical frivolity and the power of poetry.

Blown up within minutes from a formless piece of plastic, inflatables are huge props for visibility. Stretching across roads and intersections, their elastic surfaces and surreal weightless forms captivate the eyes of the public and media. In the battle of the spectacle, inflatables are tactical tools for conveying messages and engaging more people in social movements.

Inflatables create a new space quality which could be expressed through the definitions «Spirit of Space» or «Sense of Place». Sense of place is well explained by John Brinckerhoff Jackson, in his A Sense of Place, a Sense of Time:

"A sense of place is something that we ourselves create in the course of time. It is the result of habit or custom.... A sense of place is reinforced by what might be called a sense of recurring events."

David Hummon, in his Community Attachment: Local Sentiment and Sense of Place, also has a suitable interpretation of the space quality that come with inflatables:

 "By sense of place, I mean people's subjective perceptions of their environments and their more or less conscious feelings about those environments. Sense of place is inevitably dual in nature, involving both an interpretive perspective on the environment and an emotional reaction to the environment.... Sense of place involves a personal orientation toward place, in which one's' understanding of place and one's feelings about place become fused in the context of environmental meaning." 

While Tarmtott as an inflatable created a sensory space, the bridge between Blå and DOGA itself transmit the idea of transition, portal and gate. Tarmtott being placed on the bridge symbolises a transitory moment of rebirth leading from one side of the river to a new world. Following the example of Tarmtott (Biology) we see interpretation of tentacles expressed in inflatable technique become a live structure, provoking and engaging our imagination. The inflatable in this particular case indicate the multiplicity of theories and the power of imagination, giving to the observer a reason for physical and intellectual interaction.

Theory at work:
As the most visible symbol of an art installation, an inflatable element can be a great way to frame action and communicate a key message or idea. For example, giant inflatable rats have become commonplace at US labor protests of workplaces where the employer is acting like a "rat." When the right symbol is chosen, the message will be clear to everyone who sees the installation, in person and in the media.

Creating inflatables can be technically demanding and, once deployed, they can be easily damaged. Inflatables bring a tactical frivolity to action settings. They can be put to many uses, from engaging the crowd, to ridiculing the police, to providing an iconic meme for the media, to forcing authorities into a decision dilemma. In the same way this phenomena use comedy and absurdism as a tactic tool, the grotesque.

The building of large-scale inflatables is difficult to do alone, making it a social activity of equal importance to the action that follows. There is something poetic and utopian in making lightweight, oversized structures together. The work is ideally suited for engaging people from diverse backgrounds: creatives, wanting to learn, as well as activists, wanting to realize an action. As the big inflatable takes shape, excitement grows over the collectively built sculpture that soon will be shining in public. When making Tarmtott, we certainly experienced this excitement of actually having something big and very visible out in public. It drove us in our execution.
Execution
Plastic tubes:
The tunnel consisted of plastic tubes spanning the entire length of the tunnel, attached to iron bar arches along the bridge. Each arch had a led strip along it and using motion sensor at one end of the bridge the lights successively lit up guiding the visitor through the tunnel. First the 22 17-meter long tubes were made. On a double sheeted plastic roll we drew up the shape of the tubes with 'villi' on one edge and then melted the two sheets of plastic together with a soldering iron. One end of the tube was closed off while the other was left open. This was the most laborious part of the project and took several days. We called in help from friends and other volunteers, since our group was quite small for such an amount of labour. 

Steel arches:
The arch structure was made by bending the 10 iron rods into shape. Each arch consisted of two rods taped together at the top and they were attached to the bridge railing with plastic strips. 

Main air passage:
To direct air into all tubes they were attached to a collecting kitchen exhaust pipe. We made holes of approximately 8 cm in diameter along the duct pipe, after which we taped plastic cups with the bottoms cut off in the holes. This made it easier to tape on the open end of each plastic tube to its respective hole. The tunnel was prepared this way in two halves to make it easier to install on the bridge.   

Construction:
We started the installation by fastening the iron bar arches to the railing of the bridge. After this the led strips were taped to the arch and the wiring and motion sensor put in place. The arch in the southern end of the bridge was placed into the kitchen duct, lifting one end of the inflatable into place. The end of the kitchen tube was taped onto the inflatable blower. The other end was left open to avoid a too strong flow of air that would damage or dislodge the thin plastic tubes.  Now we attached the tubes one by one to each arch using plastic strips. 
Once all parts were in place the inflatable blower was turned on and all the tubes filled up gradually. Some holes from the soldered seams that failed were taped up, but mostly the holes did not deflate the structure as there was a continuous flow of air. The tunnel stayed in place overnight but took some damage from the rough weather and possibly eager festival goers. It was taken down the next day so it wouldn't block the passage.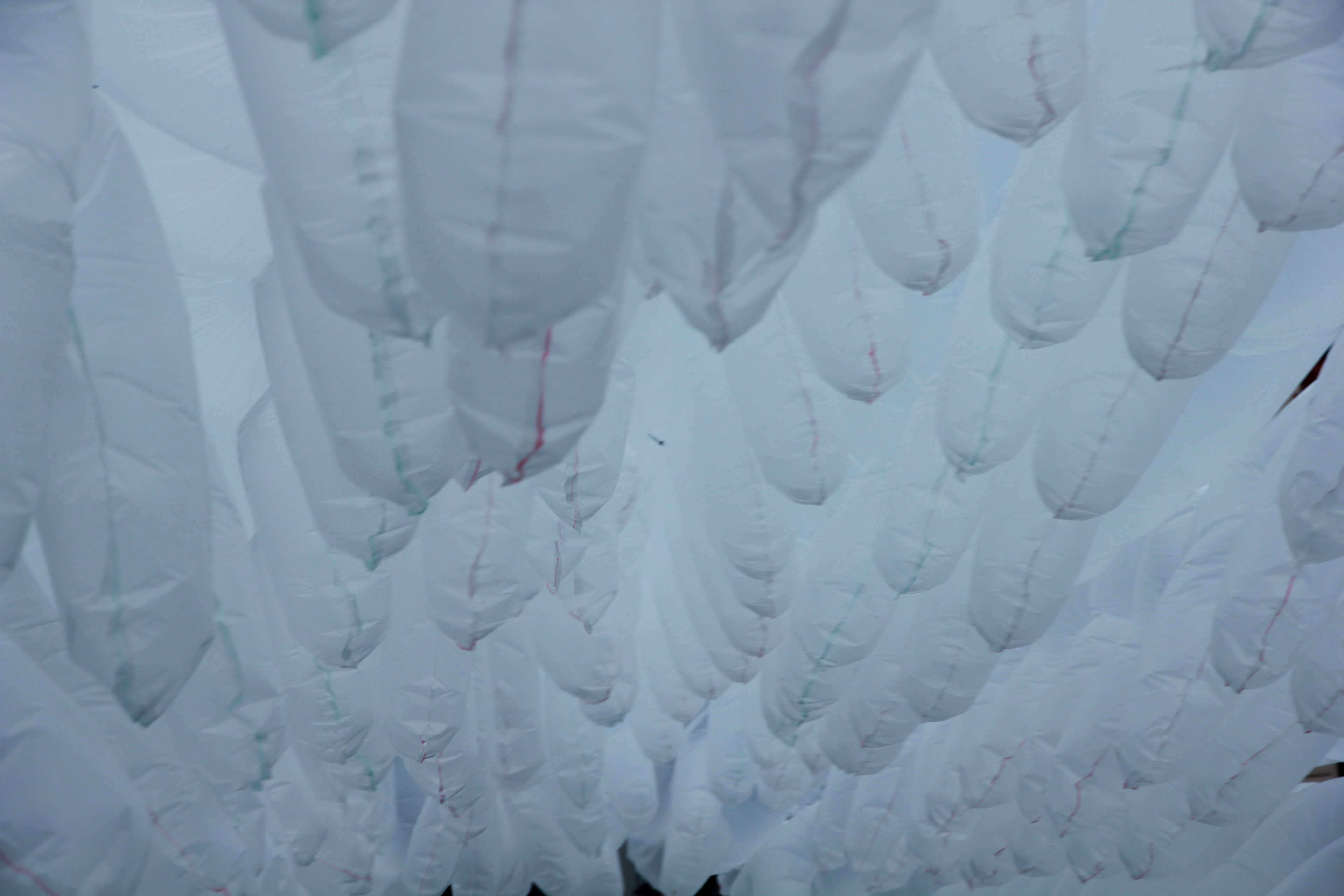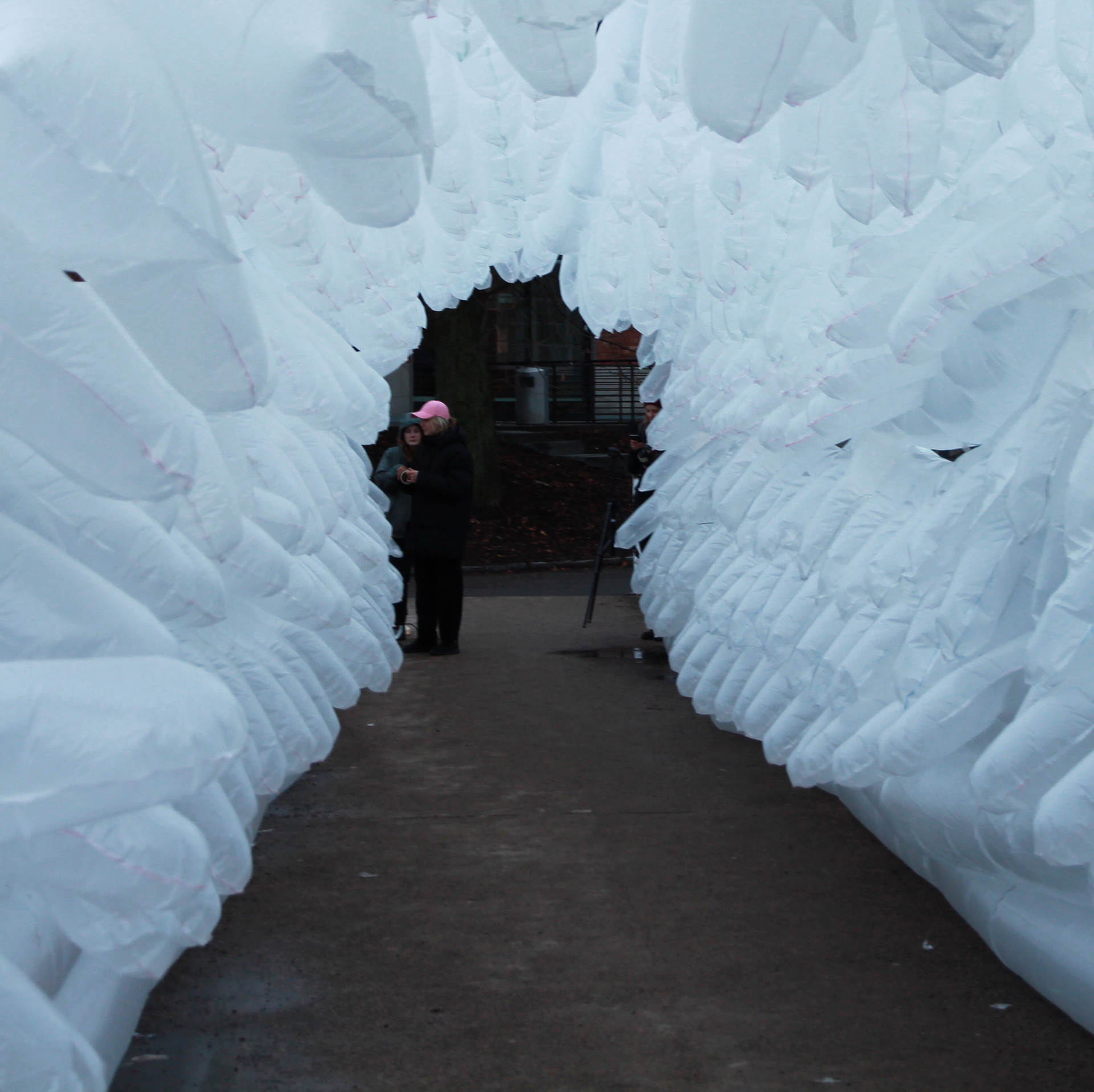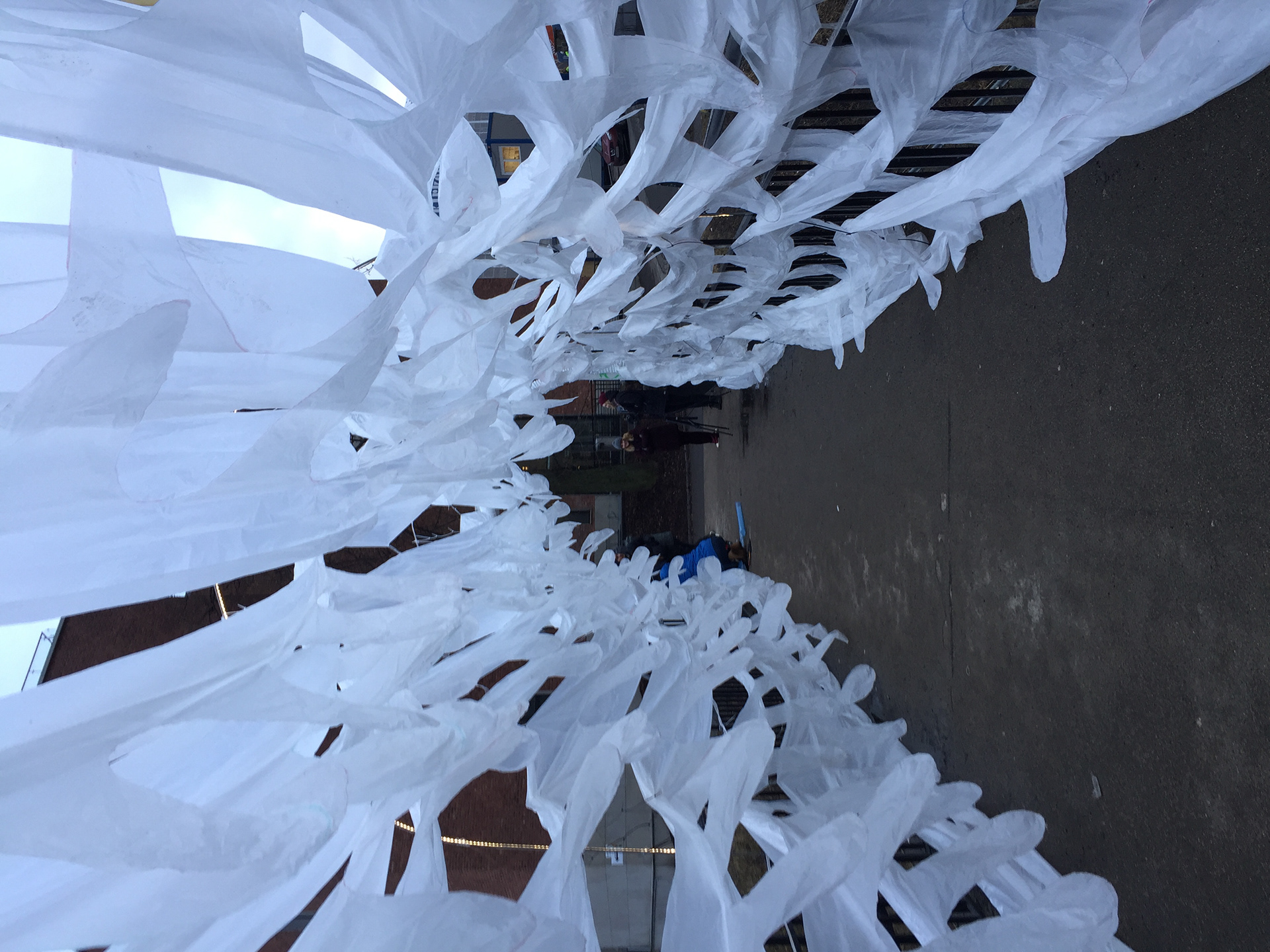 Outcome and impact
It is not always easy to fulfill one's own expectations when it comes to creating something completely new and unknown. In pulling off making this huge bridge overhang, where we did not have the money, time or energy to make a full scale test beforehand, we came pretty close to it though. The outcome of our project could in itself be called a test. A test in that it had not been done before, it had never been seen by anyone before, and also it tested our imagination and endurance.

What made us pull through was not only the fact that we were working for by:Larm, and could not disappoint them. The small tests we did that worked out, and the excitement of making something weird that people would experience, interact with and hopefully talk about, kept us going. We were hoping that people would be walking across the bridge in between all the inflatable intestine totterings and choose to take that road again because it was exciting, cool, weird, disgusting or beautiful.

By the time we got all the 17 meter long plastic intestines up, and before we put air into them, they were hanging down and lazily blowing in the wind. People passing by, mostly families with children, and tourists kept saying that what we made was beautiful. There were very few questions of why we had put it up, and we already had quite a few people taking pictures with the installation. Even though we had been half blocking off parts of the bridge earlier, people were more curious than annoyed, and before our project looked like anything at all people said "this is going to be exciting".  We were of course very egged on by this and hoped even more that the activation of the installation would be a success. 

With the flick of a switch the air pump was on and our intestine totterings inflated to life. We were of course wowed and very proud that our hard work had payed off. It was broad daylight, quite cold and windy, but people around us also seemed excited to see this thing come to life. Tourists took pictures, some people talked to us and said it was nice, and we heard children from afar saying "let's go that way!". Selfies were being taken, praise was given and we got more and more excited as the sun went down, because the lights that pulsated through the tunnel would then be visible. 

As the evening was upon us traffic increased and we got to watch people without being watched ourself, and the reactions were therefore less biased. We started scouring Instagram for pictures of our installation and found some, but not as many as we hoped. This was of course because nobody had any idea what to hashtag or the name of the bridge. Neither did they know who had made it and what for. The pictures, and more importantly the reactions and descriptions of our installation were there, but we had no idea how to find them. Searching for hashtags like #bylarm and #oslo brought up some results, together with geolocations like Blå and Jakob kirke. 

Back when we had tested our concept a bit and fully decided on how to make it, we were thinking it would be up for the full duration of by:Larm: Thursday, Friday and Saturday. As we went a long, that period got shortened to Friday and Saturday, ultimately ending up at Friday morning to Saturday noon. During the first night our tunnel had been half way torn down, and blocked a part of the bridge. We decided to take everything down, settling on our project having been some sort of a mayfly. A man walked by as we tore our installation down, and explained to us how he had seen a drunk man tearing it down in the night. He said it was a shame and that we had made a nice piece of art. When it is a shame that something is gone, it gives it value, so it was nice to hear. It was of course a bit sad, and two other men came by soon after to share their thoughts too. One was from Germany, the other from Britain, and they were somehow involved in music production. One of them said "Oh no! It's gone! I was hoping to show you". This was exactly what we wanted to happen, although the fact that the installation was gone spoiled it a bit.

Some of the funniest comments we had on the installation came from the Instagram posts that we found, and mildly drunk people passing through in the night. It was appropriately named "the bridge of a thousand condoms", "penis tunnel", "a bridge camouflaged as intestines", "the prolapse of love", and somebody even named it by it's proper name: Tarmtott, without even knowing. It became a selfie spot, as we knew from watching people take pictures, but could not properly document because we did not know how to find all the pictures. There were different types of styles in the pictures, so the interest was wide and diverse. Even some of the musicians of by:Larm posed on the bridge. Videos of the installation showed girls running and jumping through it, and cool guys walking through in slow motion while the lights pulsated.    

Though our installation was a brief affair, we got to experience first hand how people reacted to something so huge and strange. We also learned that labelling our work is important, since Tarmtott could not be traced back to AHO in any way other than through us. When somebody on Instagram credited our work to KHIO, we really felt disappointed, and we wanted people to know it was us AHO students who had done it. Therefore we put in a bigger effort to find the people who had instagrammed our installation, and hint at who had actually made it. 

In the end we were all pleased with the reactions we had gotten, and we also think people who got to experience Tarmtott felt some kind of  brief wonder or delight that day. Labelling the installation might have contributed to it being more photographed by the by:Larm photographers, and increased Instagram search-ability, which is the only thing we regret. We dwelled upon whether it was a good or bad thing that the bridge was up for only one day. The downside was of course that more people did not get to see it, which would have made it an even better learning opportunity for us since we would have gotten more reactions. But, since it was so brief, it did not take away the sense of wonder when seeing it. It would have gotten torn and ugly over three days, so maybe it was good that those who saw it, saw it in it's prime. An early goal we had for it was that it was supposed to depict how by:Larm makes the city come alive and pulsating, and our Tarmtott did indeed wake up, live to it's fullest and then died with dignity. It was a one hit wonder.